For nearly three decades, Maple Leaf Montessori has devoted itself to Maria Montessori's wisdom, vision and philosophy. We are the only Montessori school in Woodbridge to be accredited by the CCMA three times. This is why families continue to entrust MLM to cultivate their child's love of learning and help them develop into good citizens, year after year.
Elena
Graduate
Spending my elementary years at Maple Leaf Montessori School really shaped my foundation and helped me understand from a young age what my strengths and weaknesses are. Some of my life's most creative peaks were shaped in those classrooms and it has given me the tools and skills to keep exploring my strengths with dedication and determination. I just recently graduated Law School from Sussex University in southern England and am now working as a Legal Intern for the United Nations in Cambodia, hoping to pursue a career in International Criminal and Humanitarian Law. I truly owe a large portion of who I am to the philosophy, lessons and teachers of Montessori.
Christina
Parent
Although our son has only been at Maple Leaf for a few months we are so impressed with the staff and new building. Our son loves coming to school everyday and has already shown great interest in so many aspects of the Casa program. We cannot say enough wonderful things about the Casa teachers and truly appreciate all of their hard work and dedication. The parent workshops have been very informative and have provided a great connection between school and home. Keep up the great work!
Monika
Parent
Only a week after we switched Kaya from daycare to Maple Leaf Montessori, and we already noticed an incredible, positive change in her personality. The staff at Maple Leaf really take care of the children with patience and respect. We couldn't be more happy.
Silvano Z.
Parent
My children received what I thought was a first-rate education at Maple Leaf Montessori. Both of them have done very, very well. In my daughter's case it's at the University of Boston pursuing an MBA degree, and in my son's case it's at Ryerson University completing his business degree. I am absolutely delighted.
Flavio B.
Parent
Maple Leaf Montessori offered a wonderful academic program here for my three sons, and they really went on enjoying the academic experience, enjoying school. One is a practicing chartered accountant today, another is studying law, and one is studying business at McMaster, and, quite frankly, we couldn't be more proud of them
Nicki C.
Parent
Their brains are developing to think in a certain way that I think is going to help them as they go through in their education because they're building those foundations on how to learn.
Petra B.
Student
It makes me feel proud that I'm going to this school, and then when I go to my next school, everyone will be "oh my gosh you know so much" and I'll just be able to say that's just what we learn in Montessori.
Daniel B.
Parent
The Maple Leaf Montessori way of teaching, and their style, I think is something that's very special, and I don't think that you can get that at other schools.
Joanne B.
Parent
All three of my daughters have gone to Maple Leaf Montessori. One graduated last year, and two are still here. All three of them have received an excellent education.
Hiranya B.
Student
I like Maple Leaf Montessori because they make you realize that any dream is possible.
Nia B.
Student
They teach you how to motivate yourself, and how to make yourself the best that you can be.
Olivia B.
Student
I love this school. It's fantastic. When my parents wake me up, I jump out of bed because I love to go to school.
Carl B.
Parent
They're so much ahead of other kids in the same level. The teachers are fantastic.
LATEST BLOG POSTS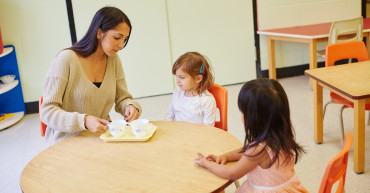 Grace and Courtesy: A Guide for Casa Parents
'Grace and Courtesy' is the title given to one of the five components of the Practical Life area in the Montessori classroom.  The philosophy behind this component is that the child desires to learn proper social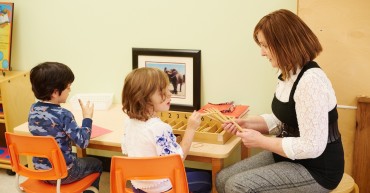 The Absorbent Mind: A Guide for Casa Parents
Maria Montessori believed that education begins at birth.  All other mammals, besides human, can walk in some form soon after birth, as well as make the noises recognized as the sounds of their species.